Monday March 2, 2009

Are you ready for some serious eyelash batting?
Latisse the only FDA approved eyelash growth treatment proven to grow lashes 25% more longer, 106 percent thicker, and 8 percent darker was approved by the FDA on December 26, 2009 and is now available only through a physician.  I just got my hands on it.  Yippie!
Allergan, the company that also brought us Botox and Restylane conducted a clinical trial with about 280 volunteers who agreed to use Latisse daily for 16 weeks.  In a published, FDA reviewed clinical trial 78 percent reported a significant increase in overall eyelash prominence.  In this study only 3.6 percent of patients reported red and or itchy eyes and none of them had a change of color of the iris, which was previously a purported side effect of the glaucoma drug Lumgan, from which Latisse's main ingredient was, and resulted of the original Jan Marini eyelash conditioner to be pulled off the shelves by the FDA.  It's pretty exciting if you ask me!
Applied once daily to the base of the upper lashes with a sterile, single use brush applicator, Latisse user can expect longer, fuller eyelashes in as little as eight weeks with optimal result in sixteen weeks.
To maintain result, continued treatment with LATISSE is required. If use of Latissse is discontinued, eyelashes will gradually return to where they were prior to treatment over a period of weeks to months (average eyelash hair cycle).
By the way, I found the brushes that came with the drug completely useless and I'm using instead a regular eyeliner brush.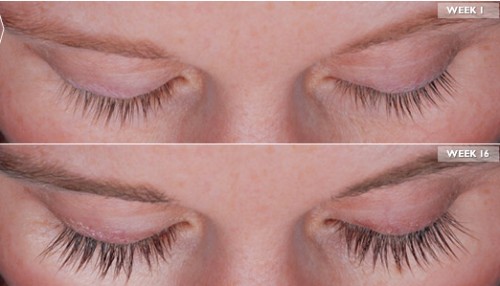 The cost of $120 for a month supply isn't cheap, but for $4.00 a day it's still less expensive than a latte at Starbucks.

In the United States you will need a prescription. Online, I found SKIN1 a dermatology and laser center willing to ship me Latisse.  They faxed me a patient form to fill out along with CC info.  I faxed it back and a few days later Latisse arrived.
I'll keep you all posted on my lashes progress.
In the meantime tell me:
[poll id="5"]
:heart: