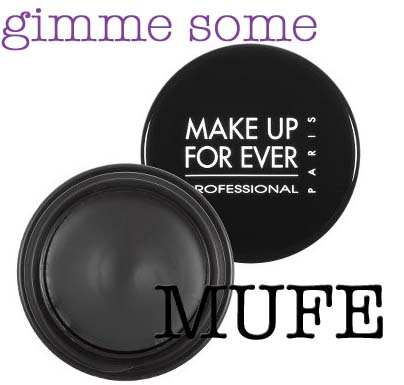 My first encounter with a cream liner was with MAC blacktrack fluid eyeliner, way back when.  Purchased it once, used it twice and dropped it out of my kit entirely.  Determined to find a multipurpose creamy waterproof shadow that I would love, I went on trying pretty much every single brands of gel or cream liner.  Liked some OK – smash box, Bobbie brown -  but no love.
Enters MAKE UP FOREVER Aqua Black Waterproof Cream Eyeshadow — Da bomb.
How versatile is it?
This is THE most versatile creamy eye product I've come across.
Can be used:
1.  as an eyeshadow for a smokey eye.
2.  as a liner for the ultimate, thick or thin, defined line.
3.  can be smudge for a softer look.
What else?

Highly pigmented, waterproof, crease proof super long lasting, MAKE UP FOREVER Aqua Black Waterproof Cream Eyeshadow won't move even after a dip in the pool, stays put on the water line for hours.  I use it to blend the seam of false eyelashes with my client's lash line and it applied like a dream.
Live gorgeously.
:heart: