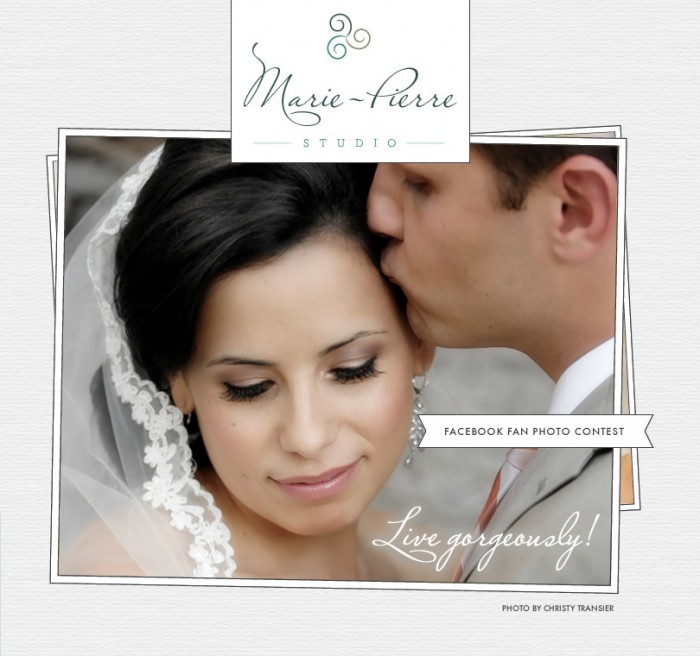 Studio Marie-Pierre Presents…
The Second Annual "Live Gorgeously!" Facebook Fan Photo Contest!!!
Good morning gorgeous girls, brides-to-be, bridesmaids, mothers of the bride, and anyone who loves to live gorgeously! I am thrilled to announce the second annual Studio Marie-Pierre "Live Gorgeously!" Contest! We had a ball getting to know so many gorgeous Key West brides last year that we couldn't resist bringing it back once again! If you or someone you know is planning a tropical destination wedding in sunny Key West after March 31, 2013, then this is the contest for you. Spread the word! This time we're giving away three big prizes!
Grand Prize Package:
An incredible package of beauty and styling for YOU AND YOUR ENTIRE BRIDAL PARTY valued at $1,000. This package includes:
Hair styling
Airbrush Makeup application
Spray tanning
False eyelashes
We want to spoil you and your girls silly!
First Runner Up Package:
A special treat for the bride only, this package includes FREE hair styling, makeup application, spray tanning, and false eyelashes.
Second Runner Up Package:
Want to look perfectly polished for your big day? This pampering package treats the bride to a FREE mani/pedi for her big day!
How The Contest Works:
So there you have it! Three great prizes for three great ladies! So what does it take to win? All I need is a picture of you living gorgeously! This could be anything:
A glamorous headshot
A sweet picture of you and your soon-to-be-hubby
A snapshot of you and your girls
Maybe you have a great pic from your last trip to Key West?
Whatever you choose, just be creative and have fun!
Oh yes, and you MUST be planning a wedding in Key West AFTER March 31, 2013.
ROUND 1: Now through December 2012
Every month through December, one winning photo will be selected. You'll get mad props on Facebook and the blog, a FREE spray-tanning session OR pair of false eyelashes. Plus, you'll be entered into the semi-finals for the GRAND PRIZE and the two runner up prizes!!!
Follow These Steps To Enter:
Step 1: Be sure to "like" Studio Marie-Pierre Key West Hair & Makeup on Facebook.
Step 2: Click on the "Live Gorgeously! Contest" app and follow the instructions to upload your picture.
Step 3: Spread the word to your friends! The photo with the most "likes" wins!
More details on the semi-finals round to come. In the meantime, get to snapping and posting and sharing your gorgeous pix! I can't wait to see what you come up with!
Finally, I'd like to extend a huge thank you to Transier Photography for the beautiful picture from one of my recent bride Daisy that we're using for the contest. What a talent!
Official Terms & Conditions
No purchase necessary
Must be 18 years or older to enter to be eligible to win the prize
Void where prohibited by law
Must stay subscribed to Studio Marie-Pierre Key West Hair & Makeup Facebook page
Studio Marie-Pierre reserves the right to refuse any submission for any reason
Winner will be listed on the Facebook and notified by Facebook
Prizes are non-transferable and not redeemable for cash
Employees of Studio Marie-Pierre, its subsidiaries, affiliates, and their families are not eligible to enter
All federal, state and local laws and regulations apply
Winner must meet eligibility requirements as required by Studio Marie-Pierre.
Entrants must be planning a wedding in Key West after March 31, 2013.
It is highly recommended that entrants reserve an appointment with Studio Marie-Pierre to guarantee availability.
The prizes may be substituted or changed at any time for any reason whatsoever
Entrants agree to give permission to use entrant(s) name and/or likeness for the purpose of advertising and trade without compensation
Participating entrants agree that Studio Marie-Pierre, its subsidiaries, participating sponsors, their affiliates, officers, directors, agents and their employees shall not be responsible for lost, misdirected, illegible or late entries
By submitting a photo, contestants accept these rules and agree to be bound by the results of the prize selection. All decisions made by Studio Marie-Pierre are final
The Studio Marie-Pierre Photo Contest is intended to be fun! Studio Marie-Pierre reserves the right to remove what we deem inappropriate photos or comments along with the contestants who post such content. Bad sportsmanship will not be tolerated.