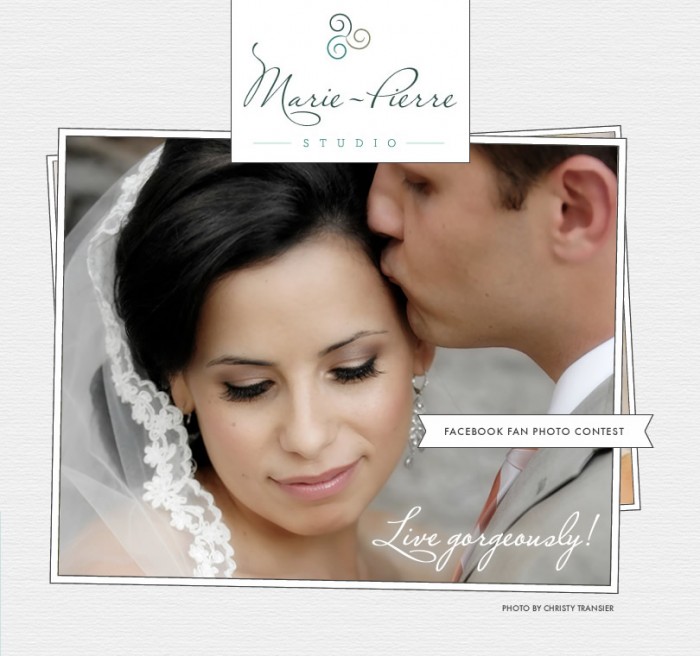 What's the toughest part about planning your wedding? Many brides and brides-to-be will answer this question by saying, "Picking the date!" There's so much to coordinate when it comes to planning your dream wedding, especially a dream destination wedding. Is your favorite resort available? What about that amazing photographer? Will you have enough time to find your dress, send invitations, select the cake and the caterer? It's a lot to manage and that's just the tip of the iceberg! Of course, the same goes when it comes to booking your hair and makeup.
We are thrilled to host the Second Annual "Live Gorgeously!" Facebook Fan Photo Contest offering one lucky bride the chance to win FREE hair and makeup for her and her entire bridal party. This year, we're also giving away two Runners Up Prize Packages, and every monthly winner gets her choice of FREE false eyelashes or a FREE spray tan.
We want to make sure your wedding day goes off without a hitch. We strongly urge any bride who enters the "Live Gorgeously!" Contest to book with us in order to guarantee her wedding date. We are a boutique studio with a very busy wedding season and we want to accommodate as many gorgeous brides as possible, but we have our limits. If you enter the contest and you have not booked your wedding date, there is a possibility that you will have to forfeit your win if we are fully committed on your wedding date.
We all know wedding planning takes major coordination, so save yourself the worry, and secure your wedding date with us now. We're so excited to get to know this year's "Live Gorgeously!" brides. Take a look at June's contestants and cast your vote. It's still anyone's race between Brandi, Emma, and Laura. Good luck ladies!