For someone like myself completely enamored with flirtatious eyelashes, the minute I heard of LashDip I knew I had to look into it further. After making a couple of calls and doing a little research, I was signed up for their certification class and off to Atlanta for a few days.  Simply put LashDip is genius. :biggrin:
But what is LashDip?
"The worlds most perfect coat of mascara" adds volume, increases length, provides lift, curve and separation — similar to that of traditional mascara — but won't smudge or wash off for weeks." LashDip, was invented  by 2 lash experts Jessica Harley and her stylist business partner Gina Mondragon. LashDip is a semipermanent mascara that is applied onto each lash and will last up to six weeks. The process takes about 1 hour, the results are amazing: sculpted, lifted, thicker, longer top and bottom lashes that are long lasting. Shower, swim, cry (hello brides), and sweat without ever worry about raccoon eyes.
LashDip uses a 100% hypoallergenic, blacker-than-black gel substance to coat each individual lash and sculpt it into place. It won't damage your natural lashes, and its toxin and preservative-free formula is gentle enough for contact lens wearers. What's not to love?
The maintenance
The only maintenance is applying LashSeal, a clear gloss included with your service, once per week to extend wear and add shine.  We do advise in using an oil free eye makeup remover for eye shadows and eyeliner.
LashDip will grow out with your lashes, similar to extensions, but a LashRefresh appointment will spruce up your lashes offering longevity to the service
The cost
The cost is $135 for the top lashes and $60 for the bottom. Top and bottom together is $175 which includes a LashRefresh appointment at 2 to 3 weeks, and a complete removal after 6. We will also send you home with a LashSeal tube to keep your lashes looking great.
Who's a good candidate?
You'll love LashDip if:
You do not dig applying mascara everyday
Eyelash curlers freak you out
You're going on vacation. Hello pool and beach.  Bye smudge.
You love looking fresh and bright eyed especially when hitting the gym, yoga or anything else that involves perspiration
You're too lazy to remove your makeup before bed
You don't mind spending $135 for a beauty treatment due to any/all of the above
Check out our new webpage!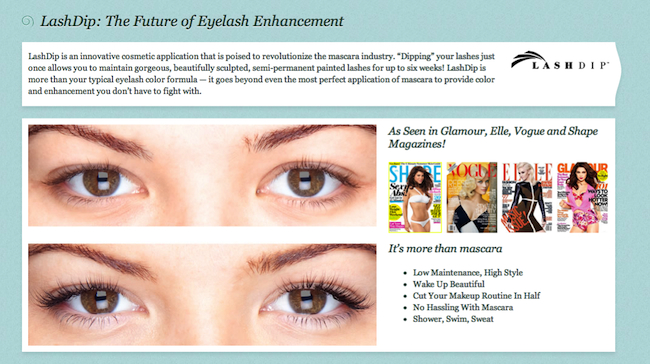 And to get in touch for a LashDip application email: info@studiomariepierre.com or call 305.433.0064
In honor of Breast Cancer Awareness month during Oct. 2011 all  Lashdip applications are specially priced at $100!