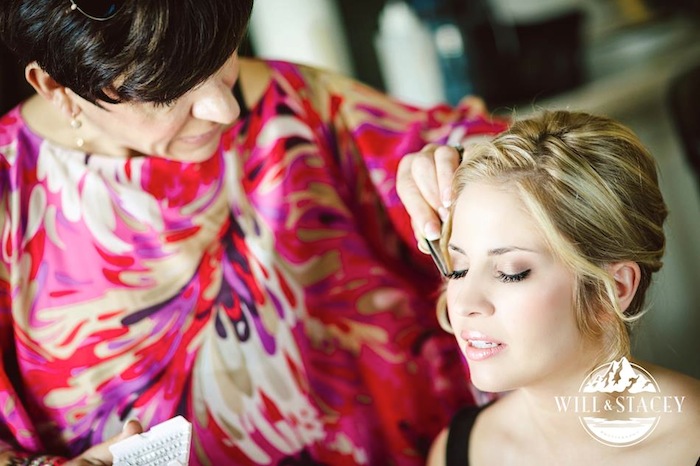 Choosing a Key West Hair Salon for Your Wedding Day
Your wedding day will be the most photographed day of your life. Having your hair and makeup done by a professional is an absolute must, but how do you choose the perfect hair salon and makeup artist to fit your needs?
The team at Studio Marie-Pierre has been specializing in bridal styling for over 10 years, and it's part of our commitment to not only eliminate the stress of getting you and your party camera ready, but also of making you feel calm and pampered on your special day. Our team has gotten together to look at some of the important considerations every bride should make before choosing her stylist for her big day. These are our recommendations about getting set up with your perfect stylist.
Plan ahead, book early
Brides who are having their destination weddings in Key West or other high-traffic wedding locations need to be on top of things. Weddings are our business and we book up fast. We recommend choosing and booking a salon as soon as you know where you're going to be getting married to ensure that you get the team you really want. 12-15 months in advance is not too soon to book!
Check Out the Hair and Makeup Studio Online
Since you're looking at a destination wedding, it might be impossible to check out a studio in person. We recommend checking them out online, looking at their gallery of brides, reading their online reviews, following their blog, Facebook page etc. This helps you get a better idea of the kinds of options you have available to you and whether or not the salon is the right fit for you.
Book a Hair and Makeup Trial if You Can!
Although a hair and makeup trial preview is not a requirement, it is a great way to learn about your stylist and see how well the two of you communicate about your desired style. It can also help you  narrow down the perfect look for yourself. When you go to your trial it is to find out about things you love, but it's also a time to see things that maybe you thought you loved but didn't in the end.
Should you forego a trial please make sure to have plenty of pictures handy on the big day. Pictures are so helpful to us.
Talk to Your Stylist
Remember your stylist can't read your mind, but they want you to be happy with your look! Be sure to tell them if something is not right because that's the only way we know to fix it. Believe us when we say we want you to be truly happy with your look and feel like a superstar on your wedding day.
Be Realistic About Your Wedding Day Expectations
We know that every bride wants to be perfect on their wedding day, and that's what we want for you, but it is also important to be realistic about your expectations and goals. If you are unhappy with certain physical features, we can do our best to play up your best features and call attention away from those you're less happy with, but again, you do need to communicate your concerns to your stylist. Remember that it's more important that you look like an improved version of yourself on your wedding day than that you look like some celebrity. Your partner wants to see you coming up that aisle on your wedding day, no one else!
Share Your Wedding Day styling day option With Others
You have a whole wedding party, including moms and flower girls, who need styling as well as yourself, but there will be other wedding parties looking for service on the same day, especially if you're in a high-traffic destination wedding location like Key West. Get a headcount from your wedding party at the time of your booking so you can be sure everyone fits. No one wants to be left out, but it's important to remember that if another wedding party books before you get your full headcount, some members of your party could end up not being able to get an appointment.
Be Conscientious About Scheduled Time
As the bride, you want everyone to be respectful of your wedding day timeline, and your stylist is committed to that too. Be sure not to leave your stylist waiting for you! You've booked a certain amount of time on purpose because that's how much time the artist needs to do their work and make you as stunning as you want to be and that applies to everyone in the wedding party as well!
Have Faith in Your Stylist!
When the big day comes, remember that you chose your stylist for their expertise. Be clear when communicating your vision and be open about your needs, but let your stylist do their job. Remember they are licensed professional hair stylist and makeup artists with many weddings under their belt.  Their goal is to make you feel as gorgeous as they possibly can. Trust them!