Tuesday February 10, 2009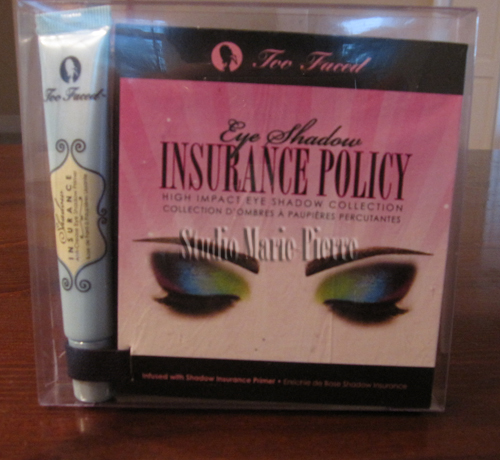 One of my reader, hello Nikki, suggested after reading "SIN Alert!" that I give Eyeshadow Insurance a shot. She couldn't stop singing its praises.
So when Too faced came out for their spring 2009 collection with "Eyeshadow Insurance Policy", which consists of one tube of eyeshadow insurance and a 6 shadow palette for $35, I only had one choice, speed dial Sephora pronto.
I received it today and gorgeous it is.
The primer is very similar to Urban Decay Potion Primer and blending eye shadows with it is still more tedious than if you were using no primer but, all in all, is easier than with UDPP.  I also like the simple tube packaging that doesn't require any special maneuver in order to get to the end of the product.
It's beyond my comprehension why Urban Decay, after all the complaints, hasn't gotten rid of their curvy bottle  — granted its cute but oh so wasteful.
I've seen a couple of videos on YouTube demonstrating how to "depott" the remaining of the primer that the applicator can't reach, but the possibility of slicing one or two fingers doesn't make it high on my list of things to do, plus it looks so messy.  Who needs the trouble? That altogether might prompt me to switch to Too Faced.
The eye shadows are powder but on the creamy side, shimmery, highly pigmented and will complement all eyes color. Beautiful shades, a definite go.
I just found out an interesting fact.  Just like Bourgeois, a highly coveted French drugstore brand that used to be sold at Sephora in the US for 3 times the price, "Too Faced" is also a drugstore brand but in the UK.
Drugstore brands can be all that.